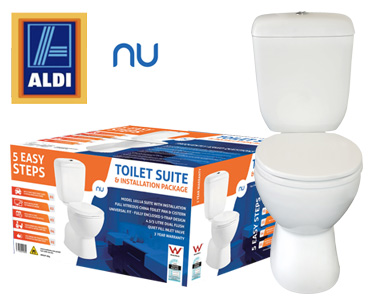 Shell Graphix, Brisbane Graphic Design agency was approached by Nu Services Group to present a package deal consisting of a toilet suite PLUS full installation to Aldi Australia for consideration to run in their Special Buys range. This high quality suite is compatible with most standard plumbing connections making it an appealing solution for many consumers. The "no fuss" solution where the plumbing requirements are included in the price tag makes it an offer too good to refuse. Aldi had been looking to run a home renovations special buys range and picked up the product to run in the June 2017 catalogue offering.
The design project brief was simple:
Make sure customers know:
1. How easy it is
2. The great price point
We pitched a "5 Easy Steps" design concept to keep text and message to a minimum (in line with the overall "Aldi" brand approach) and used icon diagrams to show the fitting compatibility of the suite itself.
As part of this project we created the package design and diecut, warranty and FAQ card inserts (in the box with the toilet suite), supplied catalogue artwork elements and branded the Nu website portal which would take the online bookings for Aldi toilet suite purchases.